Zoom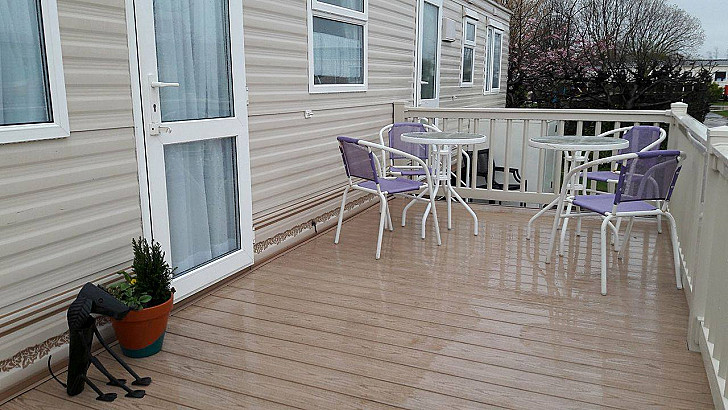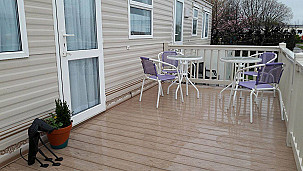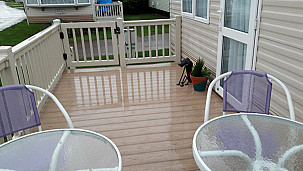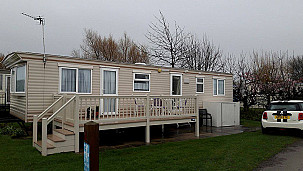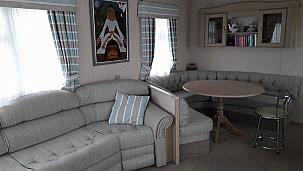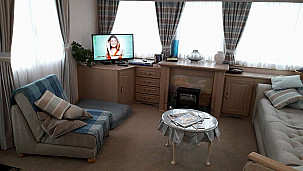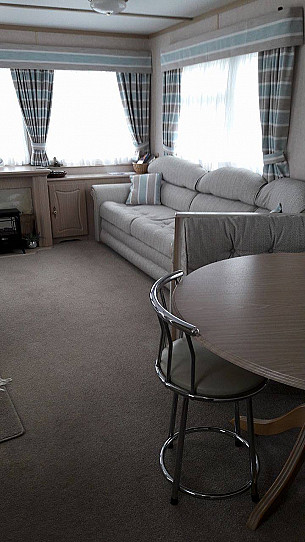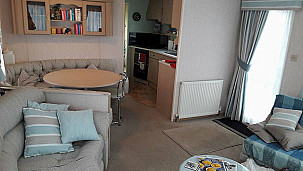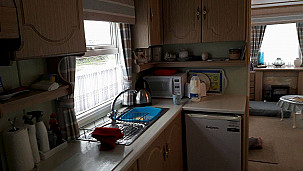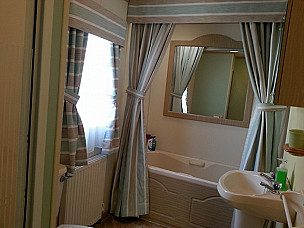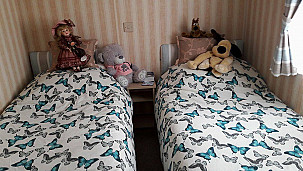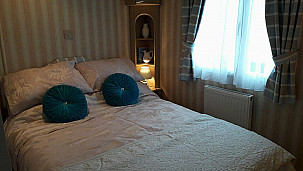 Cosalt Devon Static Caravan
Situated on
Manor Park Holiday Village Hunstanton
| | |
| --- | --- |
| x nights | £ |
| Booking fee | £20 |
| Total Price | £ |
Price Includes
Select dates
Covered by Payment Protection
Never pay for your holiday rental by bank transfer. Learn more about paying safely
2 Bedrooms
Sleeps 6
No Smoking
No Groups
Pets Welcome
Kids Welcome
Owner Description
Welcome to the Balmoral on Manor Park Holiday Village, Hunstanton, where she and her decking area are situated on a perfect pitch for the sun all day, and in those cooler months she has full gas central heating and double glazing. This caravan is a spacious and comfortable holiday home and has a large family lounge with a pull out sofa bed to accommodate 2 people, and is 6 berth in total. The lounge also has a pull out single bed for if 5 guests are staying too. There is room for a travel cot, and there are two large dog cushions with washable covers that may seat two small dogs or two large. The caravan has a good sized decking area outside with a gate that locks - with a key kept high on the kitchen wall, and the decking can be overseen from the kitchen and living room windows, which is perfect for keeping children and dogs safe, and security of mind through observation when not on the decking yourself. I would suggest that one enters by the second separate hall door near the patio area, hence keeping the decking area locked for security. There are two outdoor tables with chairs and loungers for the decking area. There is a 29" television, DVD player, and electric fire in the lounge, and soft lighting for relaxing evenings if you decide to stay in. In January 2017, upholstery and foam in furniture were upgraded for comfort. The main bedroom is a comfortable size and has a double bed, dressing table and a good sized double wardrobe. All mattressess and pillows have protective covers regularly washed. The twin bedroom has two #full size# single beds with a wardrobe and wall storage above beds. The 1st bedroom wardrobe holds pillows, quilts and bed linen for the lounge pull out beds. There is a dog bed under the double bed with regularly washed covers. All windows to the caravan have custom made curtains that are blackout for lazy mornings if required, and thermal for winter evenings, with bright white voiles for guest's privacy. The bed linen, electric and gas usage is included in the advertised price. The kitchen area is open plan from the dining area and living room, and is fully equipped with the crockery and utensils needed for your holiday. There is a gas oven and hob, a microwave, fridge freezer, and all the usual electrical appliances found in a kitchen. On arrival you will find fresh milk in the fridge, coffee and tea bags for refreshment while unpacking, and if you have a dog, there are 3 bowls, one of which will hold fresh water on the decking for the afternoon you arrive. The local Tesco Supermarket is a two minute drive from the caravan to collect your groceries, or the Sainbury-Supermarket is in central town, and this year competition is being built on the main road into Hunstanton; Lidl. The unusual 'Very' large bathroom in Balmoral 22 comprises of a toilet, a wash basin, a separate shower unit to one side and a full size bath with good grip handles to the other side. This is a convenient feature for a disabled person or elderly person, however there are steps to the exterior decking area that may have to be taken into consideration.There is also a separate small room with toilet and hand-basin for family convenience. There are two cupboards in both toilet areas, which hide the cleaning equipment. You will find hand towels, but you will need to bring large towels for the beach, swimming pools and bathroom. Also, please remember to bring plenty of doggy towels to wipe him/her down after a bath from the beach.

There's plenty to do and beautiful places to go on the Norfolk coast. Hunstanton area is the only place one can see the sunset over the sea on the East Coast of England.There is an abundance of tourist information in the caravan - giving you all the information you need while you are here with us to have either a relaxing, or fun packed holiday. I will greet you later the day you arrive to answer any questions from adjusting the central heating to local amenities and where to go around Hunsatanton; there are restaurants that do include dogs, and there is also a dog beach where they can run free. Additional optional costs of staying on Manor Park include family passes to the Manor Park swimming pools, Kid's club and on site entertainment. These prices vary from £20 - £54 for short stays, weekly bookings and amounts of guests involved. On booking your holiday here, I will send you the paperwork/ booking form and map, which you do not have to send back to me, I keep two copies, one for key handling at reception and one for my files. The paperwork will explain where you collect the keys from the reception, and the position of caravan. It will also give you two options of how to pay the deposit and balance - by cheque or bank transfer. I know you will have a super holiday, I have many returning guests/friends - and you may wish to return to improve one's work/life balance. All reviews can be seen in my caravans. Thank you for reading and I hope to meet you soon.
FFreezer
Fridge
Microwave
Oven
TV
Bed Linen
Patio
Heating
Shower/Bath
Toilet
Parking
Outdoor Furniture
Iron
Outside Storage
DVD Player
Play Area
Games Room
Kids Club
Beach 3 Miles
Bar
Horse Riding Nearby
Swimming Pool
Restaurant
Golf Nearby
Fishing 3 Miles
Shop
Wheel Chair Access
Sports Ground
Launderette
Sky Sports
Tonia M
Id: 9468
Listed: Apr 22nd, 2017
Listings: 1
Availability last updated 26/09/2023
Calendar Key

Booked
Change Over
This owner prefers not to share their availability online, check if is available by contacting the owner direct using the quick quote form.
September 2023
m
t
w
t
f
s
s
1
2
3
4
5
6
7
8
9
10
11
12
13
14
15
16
17
18
19
20
21
22
23
24
25
26
27
28
29
30
October 2023
m
t
w
t
f
s
s
1
2
3
4
5
6
7
8
9
10
11
12
13
14
15
16
17
18
19
20
21
22
23
24
25
26
27
28
29
30
31
November 2023
m
t
w
t
f
s
s
1
2
3
4
5
6
7
8
9
10
11
12
13
14
15
16
17
18
19
20
21
22
23
24
25
26
27
28
29
30
December 2023
m
t
w
t
f
s
s
1
2
3
4
5
6
7
8
9
10
11
12
13
14
15
16
17
18
19
20
21
22
23
24
25
26
27
28
29
30
31
January 2024
m
t
w
t
f
s
s
1
2
3
4
5
6
7
8
9
10
11
12
13
14
15
16
17
18
19
20
21
22
23
24
25
26
27
28
29
30
31
February 2024
m
t
w
t
f
s
s
1
2
3
4
5
6
7
8
9
10
11
12
13
14
15
16
17
18
19
20
21
22
23
24
25
26
27
28
29
March 2024
m
t
w
t
f
s
s
1
2
3
4
5
6
7
8
9
10
11
12
13
14
15
16
17
18
19
20
21
22
23
24
25
26
27
28
29
30
31
April 2024
m
t
w
t
f
s
s
1
2
3
4
5
6
7
8
9
10
11
12
13
14
15
16
17
18
19
20
21
22
23
24
25
26
27
28
29
30
May 2024
m
t
w
t
f
s
s
1
2
3
4
5
6
7
8
9
10
11
12
13
14
15
16
17
18
19
20
21
22
23
24
25
26
27
28
29
30
31
June 2024
m
t
w
t
f
s
s
1
2
3
4
5
6
7
8
9
10
11
12
13
14
15
16
17
18
19
20
21
22
23
24
25
26
27
28
29
30
July 2024
m
t
w
t
f
s
s
1
2
3
4
5
6
7
8
9
10
11
12
13
14
15
16
17
18
19
20
21
22
23
24
25
26
27
28
29
30
31
August 2024
m
t
w
t
f
s
s
1
2
3
4
5
6
7
8
9
10
11
12
13
14
15
16
17
18
19
20
21
22
23
24
25
26
27
28
29
30
31
Rent Out Your Static Caravan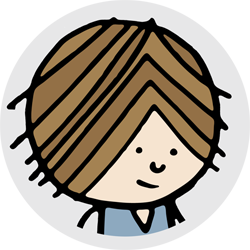 Join 5000+ Static Caravan Owners. List Your Static Caravan For Free. Accept Bookings. Earn Up To 10k/Year.
List Your Static Caravan
Safety and security
We are dedicated to providing you with security you need for a hassle free holiday. We offer a payment protection and verified owners scheme. Find out more >