Zoom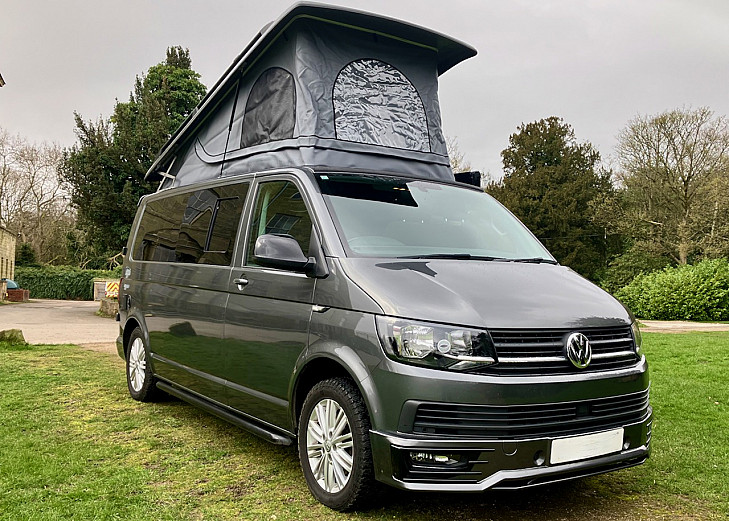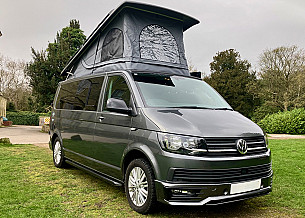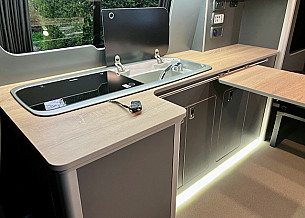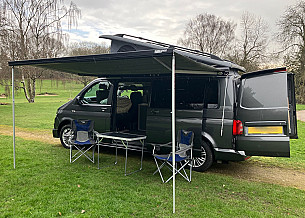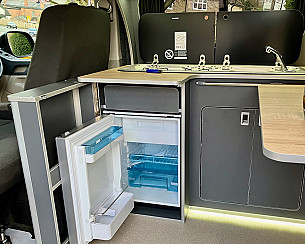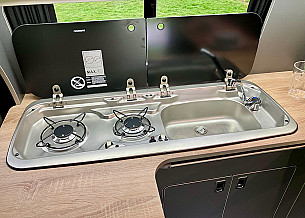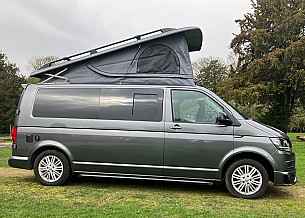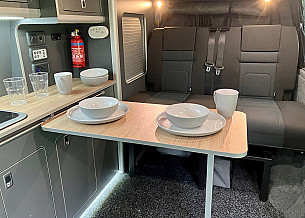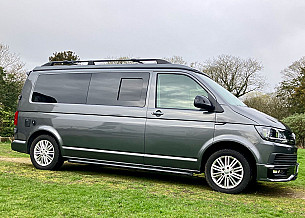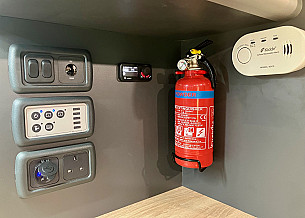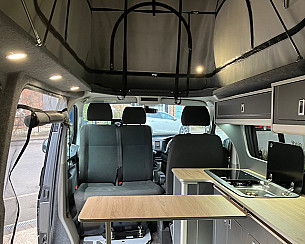 VW T6 LWB Auto
Ref: 17337 Collection Derby, UK
| | |
| --- | --- |
| x nights | £ |
| Booking fee | £20 |
| Total Price | £ |
Your stay is over 14 nights, to get the best price we recommend that you
message the owner
| | |
| --- | --- |
| x nights | £ |
| Booking fee | £20 |
| Total Price | £ |
Price Includes
Unlimited mileage
Insurance
Breakdown cover
Handover
Parking
Select dates
Covered by Payment Protection
Never pay for your holiday rental by bank transfer. Learn more about paying safely
Sleeps 4
5 Seatbelts
Auto
Pets Welcome
RHD
Yes tow bar
5.2m Long
C1 Exempt
Owner Description
Brand New Conversion, available from March 2023.

Billy, our 4 berth camper is perfect for exploring, with automatic transmission, cruise control and parking sensors, this LWB campervan is a joy to drive and explore.

Equipped with a pop top roof, fridge freezer, hob, sink, heater, wind out awning and solar panel. This Long Wheel Base (LWB) version offers ample space, so you can pamper yourself with home comforts whilst enjoying the great outdoors in style.

Billy offers flexibility with a great sense of adventure. This really is as good as it gets, everything you need to explore the great outdoors.

Optional extras;- Paddle Board, Large Cool Box/Freezer, Toilet, Two man Tent

What's Included, complimentary items;-
Plates, cups, mugs, bowls
Cooking utensils and cutlery
Cooking equipment - pots, pans, chopping board
Camping Chairs x 2
Self inflating single camping mattresses x 4
Camping Gas for cooking.

Safety Equipment;-
Fire Extinguisher
Fire Blanket
Carbon Monoxide Detector
First Aid Kit

Full Camper Specification;-
∙ Automatic with cruise control.
∙ Front and Rear Parking Sensors.
∙ Pet friendly.
∙ Twin-burner gas hob and grill.
∙ Stainless steel sink and drainer.
∙ Fridge/freezer.
∙ Long Wheel Base, extra space, storage and comfort.
∙ Solar Panel for off grid camping.
∙ Five seats, with two double beds, sleeps four people.
∙ Isofix for two rear child seats.
∙ Double passenger seat swivels to create living / dining area
∙ Pop top roof with scenic canvas and elevating bed which sleeps two people.
∙ RIB downstairs double bed, sleeps two people.
∙ Heating to keep you nice and warm on those cooler nights.
∙ 12v electricity for off grid and 240v campsite electric hook up.
∙ Privacy glass windows and all round blinds.
∙ External shower, rear pull out cold shower, ideal for washing muddy boots, paws, bikes etc.
∙ Cab Air Conditioning (only while vehicle is running)
∙ SatNav (Updated 2022, UK, France, Germany, Spain, Portugal)
∙ Volkswagen Transporter Highline, DSG Automatic, 150bhp, VW Emergency Break Assist.
∙ RAC Breakdown Cover
∙ Off Road Tyres, General Grabber AT3, Tow Rope.

Billy says - Let's create some happy memories together that we can look back on and cherish!

We will hire Billy for a minimum of 3 days.
Hiring rules

Hiring Rules
No off-road - unsealed roads must be approved first. Please be aware the vehicle has an underslung water tank
No smoking inside
Pets allowed, only upon application
No festivals, unless approved
Hirer age restrictions min 25yrs
Awning must be packed away before bad weather arises
RV must return cleaned or risk a fee
Standard pick-up / drop-off times are 9 am to 5pm
Limits on mileage 100 miles per-day, additional milage charge at 45p per mile
EMERGENCY - If any engine lights come on the dashboard, pull over immediately. If an accident occurs, get off the road, stay safe, call Camplify on 0330 808 1811 / call the number of the breakdown service provider provided to you / call me!
DAMAGE - If damage happens, you must report it immediately - who, what, where and when will be required.
LONG TRIPS - Hirers are welcome to take the van up to 100 miles a day. After 100 miles per day, you will be charged .45p per mile at the completion of the trip from your bond.
FUEL - Return full of DIESEL - All hires include a full tank upon departure.
CLEANING - Clean the equipment and Van. The van must be returned reasonably clean, additional cleaning fee will be applied if not returned in good condition.
COOKING GAS - Is provided
RAC Break Down Cover Provided
Hirer must be 25 years of age or older.
Bike Rack
Air Con
Hob
Fridge
W/C
Crockery
PotsPans
Awning
Fridge Freezer
Shower
Rock Roll Bed
Pop-up Roof
Steve
Id: 11994
Listed: Jan 25th, 2023
Listings: 1
Availability last updated 02/06/2023
Calendar Key

Booked
Change Over
June 2023
m
t
w
t
f
s
s
1
2
3
4
5
6
7
8
9
10
11
12
13
14
15
16
17
18
19
20
21
22
23
24
25
26
27
28
29
30
July 2023
m
t
w
t
f
s
s
1
2
3
4
5
6
7
8
9
10
11
12
13
14
15
16
17
18
19
20
21
22
23
24
25
26
27
28
29
30
31
August 2023
m
t
w
t
f
s
s
1
2
3
4
5
6
7
8
9
10
11
12
13
14
15
16
17
18
19
20
21
22
23
24
25
26
27
28
29
30
31
September 2023
m
t
w
t
f
s
s
1
2
3
4
5
6
7
8
9
10
11
12
13
14
15
16
17
18
19
20
21
22
23
24
25
26
27
28
29
30
October 2023
m
t
w
t
f
s
s
1
2
3
4
5
6
7
8
9
10
11
12
13
14
15
16
17
18
19
20
21
22
23
24
25
26
27
28
29
30
31
November 2023
m
t
w
t
f
s
s
1
2
3
4
5
6
7
8
9
10
11
12
13
14
15
16
17
18
19
20
21
22
23
24
25
26
27
28
29
30
December 2023
m
t
w
t
f
s
s
1
2
3
4
5
6
7
8
9
10
11
12
13
14
15
16
17
18
19
20
21
22
23
24
25
26
27
28
29
30
31
January 2024
m
t
w
t
f
s
s
1
2
3
4
5
6
7
8
9
10
11
12
13
14
15
16
17
18
19
20
21
22
23
24
25
26
27
28
29
30
31
February 2024
m
t
w
t
f
s
s
1
2
3
4
5
6
7
8
9
10
11
12
13
14
15
16
17
18
19
20
21
22
23
24
25
26
27
28
29
March 2024
m
t
w
t
f
s
s
1
2
3
4
5
6
7
8
9
10
11
12
13
14
15
16
17
18
19
20
21
22
23
24
25
26
27
28
29
30
31
April 2024
m
t
w
t
f
s
s
1
2
3
4
5
6
7
8
9
10
11
12
13
14
15
16
17
18
19
20
21
22
23
24
25
26
27
28
29
30
May 2024
m
t
w
t
f
s
s
1
2
3
4
5
6
7
8
9
10
11
12
13
14
15
16
17
18
19
20
21
22
23
24
25
26
27
28
29
30
31
Rent Out Your Campervan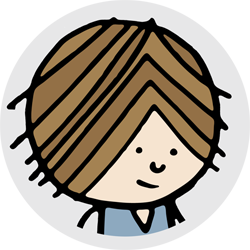 Join 5000+ Campervan Owners. List Your Campervan For Free. Accept Bookings. Earn Up To 10k/Year.
List Your Campervan
Safety and security
We are dedicated to providing you with security you need for a hassle free holiday. We offer a payment protection and verified owners scheme. Find out more >