Campervan Hire Festivals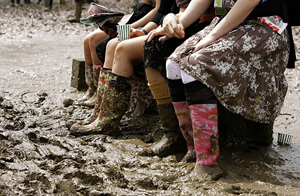 Music Festival are big news right now but a stay in a damp tent is not everyone's idea of fun. Festival motorhome hire means you get the best of both worlds ….. you get to stay on the Festival site but you have all your mod cons at your finger tips.
Most large festivals now provide dedicated campervan and motorhome camping alongside their tent facilities, and campervan hire gives you the opportunity to take advantage of them. So what should you expect?
You will have to buy a separate motorhome / campervan ticket in addition to your Festival tickets.
Everyone staying in your motorhome will require a Festival ticket.&In some instances it is allowable to park a car next to the motorhome.
Festivals do accept those who have taken advantage of the option for Festival motorhome hire
Once settled in your allocated space you are probably required to remain there until the end of the Festival.
You will not have access to an electric hook up but your motorhome rental will run on the leisure battery and gas for all of its amenities (hot water, fridge, cooker, heating, lighting) with the exception of the 240V plug sockets … turning over the engine each morning will keep the leisure battery topped up throughout your stay. This is important as generators are usually not allowed.
Arrive with a full tank of fresh water and use it sparingly as you will not be able to drive to a tap to fill up …. have minimal showers and conserve water where you can. Alternatively, make sure you have a roll along water carrier so you can get a top up if required.
It is unlikely you will not have facilities to empty the chemical toilet …. it should last several days if again you use it sparingly (use those on site where possible).
Arrive with a full fridge to make sure you can take advantage of your own cold beer and food as and when you want.
Everyone staying in your motorhome hire or campervan rental will require a Festival ticket. Here are some of the big Festivals for 2021 ….