Motorhome Hire and Campervan hire classes
Elavating Roof Van Conversion (ER)
A campervan is the smallest in the leisure vehicle class and is easy to drive and park. A campervan has a compact living space, although most campervans do still come with a good level of facilities such as a hob, fridge and sink. Always go for a campervan hire with a pop up roof (if not, the whole holiday will be spent bent over). A true added benefit is a drive away awning if available; this allows extra space during camping with the added benefit of driving away leaving the awning pitched.
High-Top Van Conversion (HT)
Growing in popularity, due to the compact size yet having a large range of habitational facilities. The high top van conversion is based on a number of standard vans, such as fiat Ducato, Ford Transit. There is room to stand and they have similar features to a coach built motorhome such as a toilet, shower oven and hob, while some even have awnings.
Low Profile (LP) Coach Built (C Class)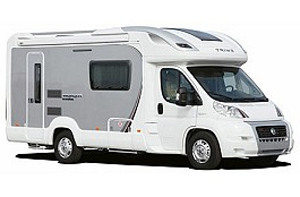 Most motorhome hire vehicles are coach built (C Class), the low profile model have a sleek front with no Luton (over cab). This type of motorhome usually has a rear fixed bed, shower and toilet with a forward dinette area with captains chairs. A Low profile coach built motorhome (LP) has better fuel economy than a Overcab Coach Built Motorhome.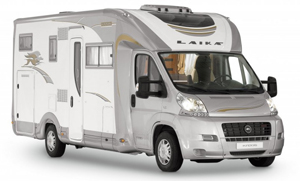 Low Profile Roof-Bed LP (RB) Coach Built (C Class)
The low profile roof bed motorhome conversions are becoming extremely popular with a number of motorhome manufactures adding them to their range. The roof bed low profile has a bed that drops down over the lounge; this style has all the characteristics of the Low Profile motorhome, with the added benefit of the extra double bed.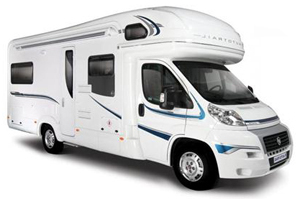 Over Cab (OC) Coach Built (C Class)
A Over Cab coach built motorhome is based on a standard van cab such as Fiat Ducato, Ford Transit, and a prefabricated caravan body is mounted onto a base vehicle. The over cab differs from the low-profile motorhome rental in that it has protruding bodywork ('the Luton') above the cab area, which houses a double bed. This class is by far the most popular motorhome hire for families, groups and couples alike due to the home from home facilities such as microwave, oven, hob large fridge freezer and excellent chemical toilet and shower with hot running water!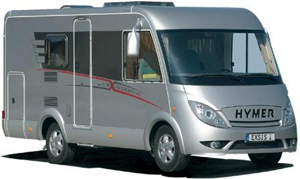 A Class Motorhome Hire (A Class)
The ultimate in motorhome luxury, A-classes are built from a chassis upwards integrating the driver's cabin within the living area. All the space within the 'van is utilized for space and comfort. Most A-class 'vans have a drop-down bed above the cab. This style of motorhome is literally home from home.
RV (Recreational Vehicle)
The RV or "Recretional Vehicle" is normally based on a truck or bus chassis, and the living and cab area are integral to the RV's living area. These vehicles have 'slide outs'. Slide outs are literally part of the motorhome which extend the living area by sliding out on hydraulic rams. The RV is quite a rare site on UK and European roads due to their size. RV rental is mostly found in the US and Canada